School Readiness
Starting Kindergarten is a new adventure for you and your child.  We want your child to be excited and proud to walk through the classroom door ready to take their place at 'big' school.  By coming to visit us in the lead up to starting school, we hope that all our newest students and families will feel welcome at Our Lady of Rosary Waitara and will gain a sense of familiarity and ease with their learning environment and their teachers and peers as they step into school.
Research suggests that children who have a positive start to school are more likely to engage well in their learning and school life.
Our transition program will take place during November and December, for children and parents to attend. Parents will receive dates, times and information regarding this, prior to the sessions.
The aims of the Transition to Kindergarten program are:
to help ensure a smooth transition for your child as they start school
to welcome new families to the school and to give parents the opportunity to find out more about how the school operates
to continue to build our relationship and partnership with sibling families
to network with other Kindergarten parents
to meet key teachers and people from Our Lady of the Rosary School
Transition to Kindergarten 2022
  Virtual Parent Information Night
  Wednesday 10 November 2021 – 7.30pm
  Kinder 2022 Orientation Dates
 
  Monday 15 November 2021 – 9.15am-12noon

(Children with surnames A-M)

  Thursday 18 November 2021 – 9.15am-12noon

(Children with surnames N-Z)

  Tuesday 23 November 2021 – 9.15am-12noon

(Children with surnames A-J and T-Z)

  Wednesday 24 November 2021– 9.15am-12noon

(Children with surnames K-S)

  Friday 3 December 2021 – 9.15am-12noon

All Kinder 2022 students

  Best Start Dates
  Monday, 31 January 2022

  Tuesday, 1 February 2022

  Wednesday, 2 February 2022

  (children come one of these days)

  First Day of School for Kinder 2022
  Thursday, 3 February 2022
Best Start
Our school takes part in the Best Start Kindergarten Assessment developed by early learning experts in the NSW Department of Education. Best Start Kindergarten Assessment identifies student's literacy and numeracy skills on entry to Kindergarten. Each Kindergarten child will come to school for an individual 50 minute session in the week before school starts. This will be with the Kindergarten teacher.
Good attendance habits  
Success at school goes hand in hand with good attendance! Good attendance habits at school commence in Kindergarten. Poor attendance can affect your child both academically and socially so it's good to start developing some good routines for your child early.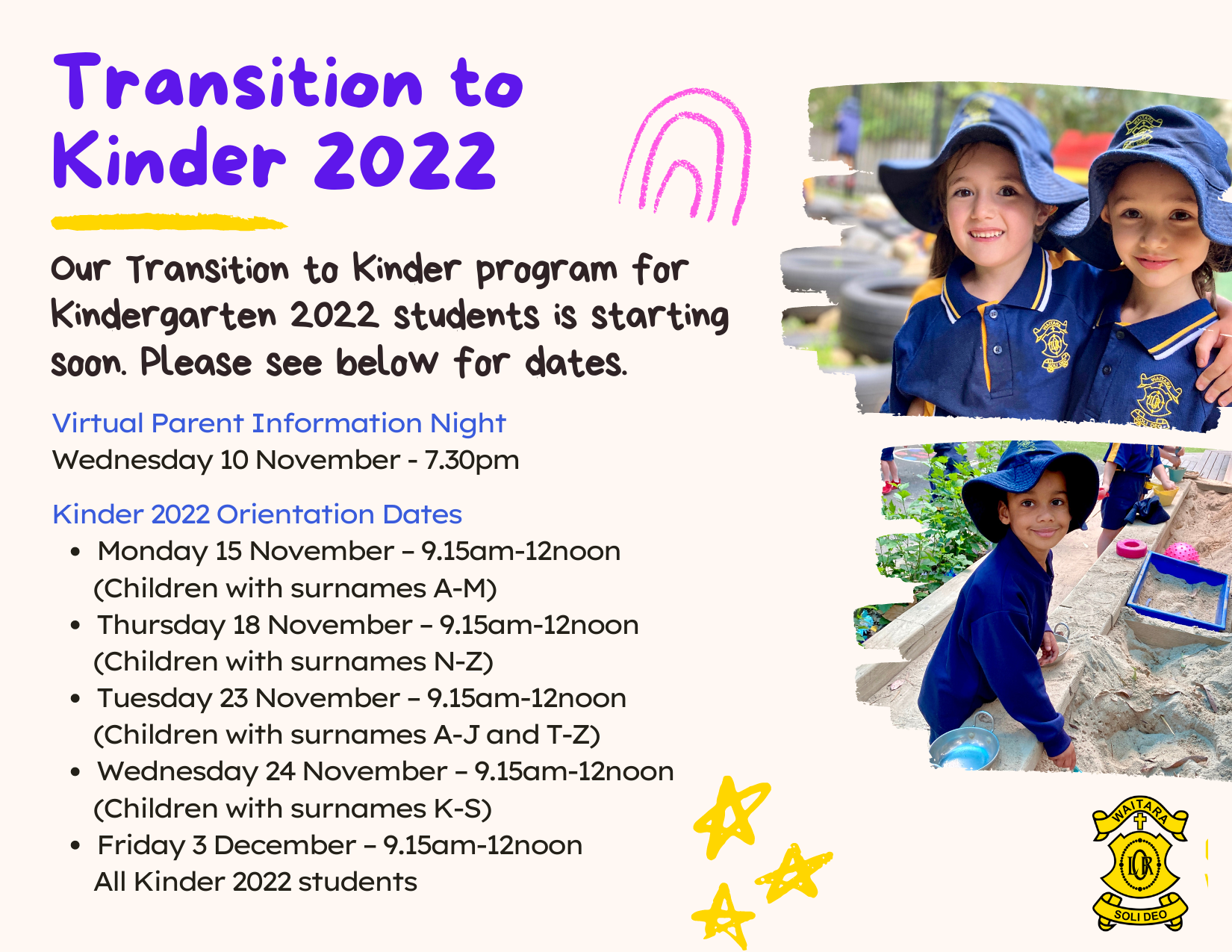 Download tips for a successful start to school
Visit frequently asked questions (FAQ) all about why our families choose Our Lady of the Rosary
Download 2021 School Fees
Download our enrolment form