Our Lady of the Rosary has a long remarkable history in the community.
The first school building at Waitara was established by the local community and built on land owned by the Sisters of Mercy.  Cardinal Moran opened OLOR, Waitara on 5th February 1898 and it was established and staffed by the Sisters of Mercy until 1979. The first school/church was built of oregon weatherboard and measured sixty feet by twenty feet. Next door, was the Foundling Home (established by the Sisters of the Mercy) to care for neglected and orphaned infants and children.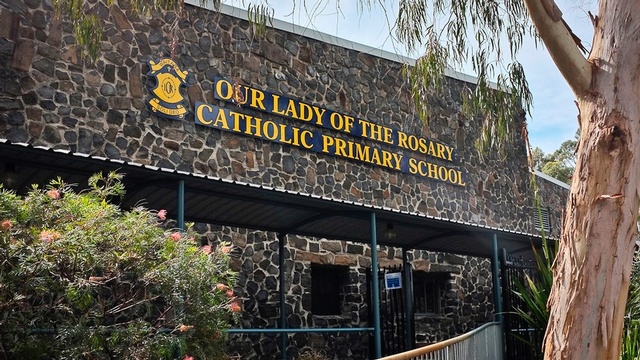 As was the custom in pioneering times, the multi-purpose building was used as a school during the week, a dance hall on Saturday night and a Church on Sunday. Mass was celebrated regularly on Sunday after 25th April 1898. Until 1916, the priests travelled from Pymble each week, usually on horseback. Cardinal Moran said of our school at its opening…
'It was but a plain and unassuming commencement of a religious school, but the place would also serve as a centre for them to assemble on Sundays and holidays in their piety, and as a seed sown in good soil would send out shoots and grow into a large tree, so would the religious beginning now made develop into larger things'.
We have indeed grown and developed from that seed planted over 120 years ago. Our school has a long and rich story of Catholic education, with a strong Mercy tradition emphasising justice, inclusion, care and respect for those in need. After the Sisters of Mercy moved on from the school in 1979, their work has been continued by a succession of wonderful staff who have carried out their ministry of teaching the children with love, dedication and commitment.
On 29th October 1991, our school was re-located from the Pacific Highway to the new OLOR Parish site here at Yardley Avenue. Our school serves and has close links with the Hornsby Parish, which was an amalgamation of Our Lady of the Rosary, Waitara and Queen of Peace, Normanhurst. We draw on the strengths and wisdom of the story of our past, to connect it to the present and to build the future together. We are blessed to share this journey with Fr Peter deSouza, Dean of the Cathedral, the other priests serving our community and members of our wider parish family.